Who We Are
Mission
Our mission requires much more than providing a consultant to fix a problem. We are more than just consultants and that means building cross-functional, collaborative, long-term relationships.
Vision
Stratford was formed to provide a fun, supportive, long-term environment in which like-minded professionals can achieve company wide success and ultimately have a positive impact in our communities
Values
Our values form the core of who we are as a company and as a collection of individuals contributing to our communities. See how our values inform how we work and how we support our employees.
Our Purpose
Our core purpose is to contribute to the prosperity and vibrancy of the communities we touch through the clients we serve.
We do that by enabling and empowering our clients to cultivate thriving businesses that contribute to the communities where they are active.
Our employees are professionals who are top performers and thought leaders, with proven track records, diverse experiences, inherent abilities, and a commitment to continuous development.
Stratford Group is not just a workplace; it's a vibrant community of practitioners that fosters growth, embraces the diversity of thoughts and ideals, and want to make a difference within the community we serve.
Pierre Côté
People & Culture
Our Mission
How We Work
Stratford is committed to helping organizations strengthen and grow their businesses with better strategies, processes, technology, intellectual property, and leadership.
What We Do
Working in the organization alongside its leaders, Stratford delivers customized solutions that realize value, achieve results and build enduring capabilities.
Our Promise to You
Realize Value
Our value is founded upon broad and deep operational experience that enables us to lean-in and contribute across critical cross-functional areas.
Achieve Results
We develop trusting relationships with our clients, applying our collective wisdom, expertise, and objectivity to recommend and implement the best solution.
Build Enduring Capabilities
Our goal is to help organizations build capacity and ensure sustainability of their objectives. Our aim is to assist in establishing reliable, efficient and lasting solutions. We want to connect companies to the tools and strategies they need in order to thrive.
Our Vision
To be the trusted partner and catalyst of change for progressive organizations everywhere.
We create and deliver valuable solutions in partnership with our clients through a socially responsible and diverse team of experts and experienced professionals. Our solutions leverage technology to add value, cover a breadth of capabilities and serve many communities and industries. Our clients include unicorns, industry leaders, trendsetters, and community do-gooders. We are considered a top consulting firm and employer by the industry, our clients, and our team.
The best part about working at Stratford is the opportunity to continually improve! We work with such a skilled group, challenging each other to build on our experiences, practices, new knowledge and market awareness. We are able to learn and flex our creative muscles every day.
Dean Fulford
People & Culture
A Culture that Reflects Our People & Our Communities
At Stratford, we are committed to creating a workplace that is reflective of our vision and values. To us that means a diverse and inclusive culture that promotes positivity, innovation, and authenticity.
We want our colleagues to feel a sense of belonging, where they can speak their mind and show up as their true self so that our clients can do the same.
Our goal is to always be working towards being better and for our people to feel confident that we are helping to build the inclusive community we strive to be.
We are committed to living our values. This means providing a welcoming environment and supportive platform for our employees to achieve their professional objectives.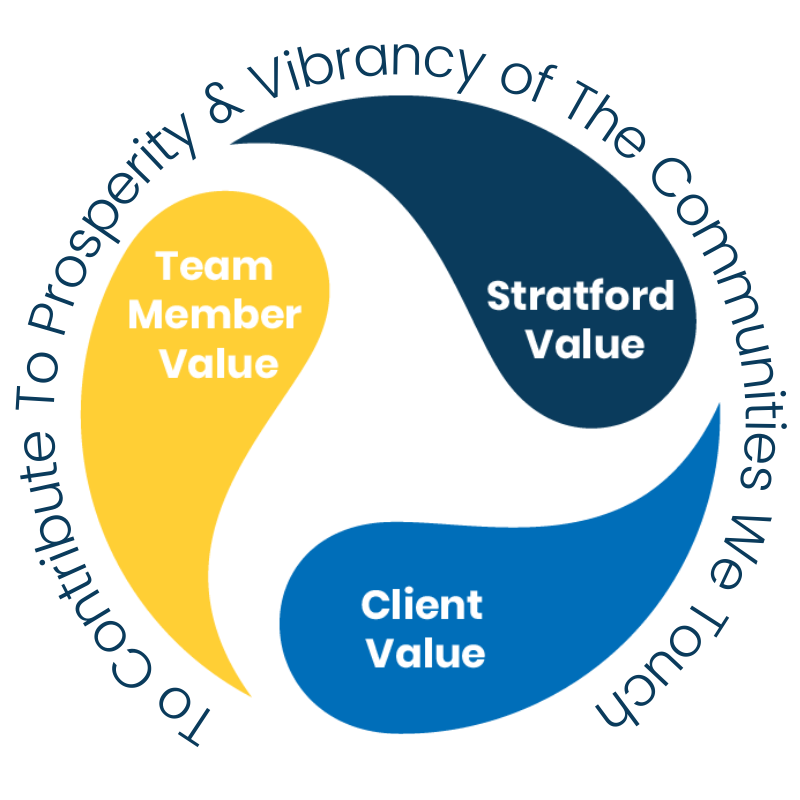 Our Commitment to our Employees
We care about our collective success. We go the extra mile and look for opportunities to add value. We do what we say and we act with integrity to cultivate trust and lasting relationships.
We connect by sharing information openly and proactively. We listen and build strong, lasting relationships with our colleagues and clients.
We collaborate based on the belief that ideas, opportunities, and solutions are strengthened when they reflect multiple opinions, views, and levels of expertise.
We contribute to a fun work environment. We identify and shape opportunities with our colleagues that are egoless when searching for the best ideas for our clients.
We celebrate our achievements and continually stretch our own potential, through solving and meeting complex challenges and having the opportunity to learn and work with industry leading colleagues and clients.
YOU NEED TO SHOW RESULTS.
WE CAN HELP YOU ACHIEVE THEM.